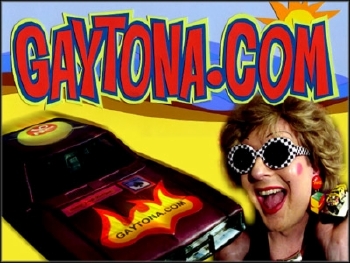 FROM WHAT I'M HEARING
The chunky fun-looking dyed blonde dude , next to Kasey is his brother Kale.

Jenny

---

Thanks Jenny

I found his picture on Google's image search and that's exactly who I was talking about.

Love
Betty Jack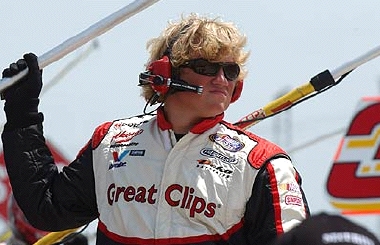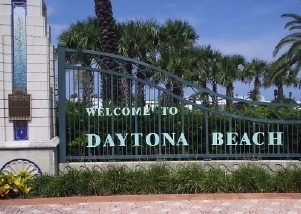 Daytona Beach is a delight 24/7 - CLICK HERE FOR GAYTONA.COM'S GAY GUIDE TO DAYTONA BEACH













Look who's linking to Gaytona.com

Come by and see us at home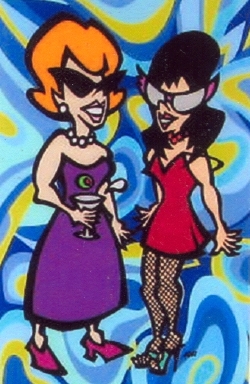 Betty Jack's Track Yack
Texas 500
Welcome, gay NASCAR fans!

How about that Kasey Kahne? All us Gaytona fans were on Kloud 9 Sunday as Kasey repeated his Atlanta performance by grabbing the Bud pole and sailing masterfully to victory at Texas! Kasey is totally showing the way for the DeVine 9 1/2. At this point, all but two of our guys would be eligible for the Chase. (Still, it's tough that three of our top favorites -- Jamie, Carl and Mikey -- have all been having bad luck. We just know they'll be back in the groove soon.) Anyway, Kasey had a terrific run and is now just 46 points out of 1st place! And what a great present for his 26th birthday, which was Monday April 10th!
The invocation was brought by Dr. Roger Marsh of Texas Alliance Raceway Ministries, who thanked the Lord for "this outrageously beautiful day" -- and boy, it did look pretty on TV. Singing the National Anthem was Little Big Town, who worked up some pretty bodacious harmonizing. They tried hard to stretch the ending to coincide with the flyover -- four F-15 Eagles from Eglin -- but there's just so long human beings can hold out a note. Then, in a revolting stunt, Eddie Gossage of Texas Motor Speedway introduced President Bush for a videotaped start command -- an "honor" linked to the 10th anniversary of TMS. It sounded to me like a lot of people were booing when he was announced. I sat on my porch and booed, I sure did.
Kasey sat on the pole but Mark Martin led the 1st lap. Actually, Kasey disappointed quickly, falling back in a car he described as loose. Biffle passed Mark for the lead. Brian Vickers dived down in a rapidly slowing machine that he gently coaxed to the garage. Just after green flag pit stops, there was a caution for debris. Soon Kasey took the lead. The caution came out at lap 83 when Kurt Busch ran into the back of defending race winner Biffle and wrecked him out. (Later, Kurt blamed it on other people, like he likes to do.) Biffle's gal Nichole was furious at Kurt's gal Ava and went down there and yelled at her on TV! And I heard their spotters were feuding also!
FOX's running joke about "Busch's approval rating" wasn't a joke at all -- you have to wonder how long some of these drivers and owners are going to put up with Kurt. Damage to the safer barriers brought out the red flag. After the restart, Denny Hamlin and Tony Stewart swapped it back and forth. The lead, I mean. At lap 120 Kurt Busch came with a fender rub -- an unfortunate side effect of running into cars, no doubt. Then, the #2 went behind the wall.
At lap 189, just after Cheatie Johnson had pitted under green, the caution came out for Derrick Cope's runaway tire. At the restart, Denny was in the lead with a Carl chaser! Jamie's car tore up, and he looked so very sad. I hope Jamie can pick it up! Sad Jamie make Betty Jack cry. Dick Bergren revealed that while his crew worked on his car, Kurt kept his windownet up to avoid any questions. There was a caution as J.J. Yeley spun and crashed.
At the restart with 139 to go, it was Denny, Kenseth, Carl, Harvick and Kasey. The sixth caution waved at lap 201 for a crash by Ryan Newman. Ryan cattily proclaimed he'd run into Sterling Marlin who checked up after his hairpiece got in his eyes! Watch it, Ryan! If we live, we all get old. With 117 to go, Kasey took 4th place from Kenseth. Then, with 103 to go, he went around Denny for 2nd! The FOX announcers declared Kasey the fastest car, and we got ready for another #9 celebration! The seventh caution came at lap 251 when the #45 blew up. At lap 257, Carl's good day went way bad as he got loose, hit the outside wall, and crossed to the inside wall at nearly full speed. It was awful seeing Carl have such a wreck; thankfully, he got out OK.
After the restart, Kasey and Stewart traded the lead back and forth. We knew Tony couldn't keep up, though, when he desperately swung high to block Kasey's favored line. But you can't do that all day, and at lap 26 Kasey took the lead. Debris brought out another caution; Kasey took four and was first out. Kasey held off Tony, who was eventually passed by Kenseth, and took the checkers under green in spite of a last-lap crash by Clint Boyer. During his awesome burnout and victory lap, Kasey was smartly tipped up his visor so the car-cam showed the whole world that he just looked so damn good! There was a huge ovation as Kasey -- NASCAR's brightest new star! -- climbed, cat-like from his ride and celebrated with his boys. GO KASEY!!!
IN OTHER NEWS...
Friday's IROC race was slamtastic and featured an amazing side-roll and roof-ride by Steve Kinser. These identically tuned IROC cars do offer some good, close racing... Reed Sorensen got in trouble in the Busch race after he reported debris on the track -- debris that the replay spotting coming out his car window! Sorensen, I like the cut of your gib... Kurt Busch, who's unpopularity is approaching that of the usurper on Pennsylvania Ave., was entirely ungracious Saturday winning his first-ever Busch race. Kurt kept up his cringe-making new "signature move," falling to the ground (after sliding along on his helmet, ouch) and attempted to make a "snow angel." This was explainable at Bristol -- where it had snowed during the weekend -- but under Texas sun it made about as much sense as a Blackglama in Bermuda. I shudder to recall it!
NBC TEACHES US ABOUT PREJUDICE
When you grow up Southern, you are early on aware that some non-Southerners just automatically expect you to be stupid and mean and probably violent. Apparently, this is how NBC views us, as well. What else could explain their recent attempt to "set off" some good ole boys and girls by parading Muslims through Martinsville? It was revealed last week that a "Dateline" crew had recruited "Muslim-looking men" and had them troll around the speedway, obviously in the hope of having some igg-nent, gun-toting, sister-marrying, snake-handling cracker try to bust they head wide open.
Martinsville PR Director Mike Smith said track security picked up on the "Dateline" crew "almost immediately" and monitored them while they were on the grounds, and "they were not disturbed." Aw, rats, I wonder why? Reckon the crackers were too drunk to fight? Reckon they had gone blind from moonshine and could not see the Muslims? Surely, there is some explanation! Heck, a pack of white dudes with Kurt Busch caps would have been razzed more!
This story does teach us a lot about stereotypes and prejudice -- but not in the way NBC thought it would. Apparently, the Martinsville fans did NOT make any stereotypical assumptions about the bearded, skullcap-wearing Muslim-looking men at the speedway. NBC, on the other hand, DID make some very ugly stereotypical assumptions about beer-drinking, downhome NASCAR fans. Yet somehow WE'RE the ones who are prejudiced? Note to NBC: Without Tom Brokaw, your news sucks just as bad as your race coverage -- and that is some damn awful sucking.
That's it for this week, friends. I wish you all a happy Passover and Easter, and I'll see you after the break in Phoenix! Let's all meet up down at the Track Bar!

Love,
Betty Jack DeVine
PS: for some really hilarious NASCAR commentary, check out those Girls Gone Racing Susan & Christine at their
Live from the Seneca Lodge Bar blogspot