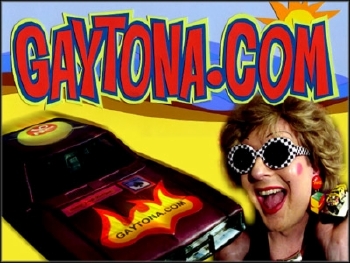 FROM WHAT I'M HEARING
Missy Ma'am,

I've clicked my virtual heels three times and have been delivered to the Promised Land!

Thank the gods for unrestricted internet! Having relocated, my system wasn't up yet and I had to rely on the public library for my internet needs. Their computers declared Gaytona.com to be inappropriate, unavailable, and downright naughty and denied me access. Gee, I wonder which three letters in the URL they objected to? Fascist librarians! I guess I should have known better than to get a card at the John Birch Memorial Library...*g*.

I have missed coming here and immersing myself in your unbridled, untempered, and hilarious take on NASCAR racing. I have long believed that you should be sharing the booth with DW and giving color commentary a whole new slant! Naturally, I would never suggest that you go to NBC...over-exposure to Wally Dallenbach can lead to the loss of IQ points!

As for Texas, I like to see Kasey win, especially if it's at the #20 car's expense. Kurtle the Turtle does need to get biotch-slapped by someone soon. Hey, let's set Crouching Midget, Hidden Gordon loose on him! If I were Ryan Newman and wore my hair like that guy from Flock of Seagulls to try and hide the fact that it was receding, I might not poke fun at Sterling. And, after that near girlfriend catfight in the pits, my suspicions that Vince McMahon was trying to take over NASCAR seems to be coming true.

I am thrilled to be able to visit Gaytona.com again. Can't wait to read the next installment!

Your devoted,
Nero Trask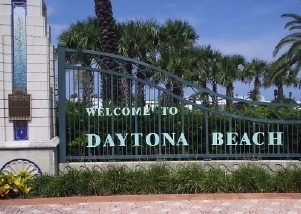 Daytona Beach is a delight 24/7 - CLICK HERE FOR GAYTONA.COM'S GAY GUIDE TO DAYTONA BEACH











Betty Jack's Track Yack
Talladega 499
Welcome, gay NASCAR fans! Well, it's always frustrating to plan a big ole NASCAR porch party and then the race gets rained out, but that's what happened Sunday. (No matter, Dixie and I had a great time with our guests -- Janet, Suepie and Jack -- thanks for dropping by the old home place, y'all!) As I have a real job and do not get FX on my basic cable, I had to settle for experiencing TallyD highlights on the Speed channel. (FOX SUX for not putting this huge race on regular TV, by the way, especially here in Atlanta, just two hours away. So much for Atlanta being a race town. Oh, wait, the Hall of Fame thing has already been decided -- we can drop that charade.) As best as I can figure out, here's how it all went down...
Before the rain hit on Sunday, the Rev. Allen Hunt of Mt. Pisgah Church in Marietta, Ga., brought the invocation. Edwin McCain sang the National Anthem. The start command came from Will Ferrell, star of the new movie "Talladega Nights: The Ballad of Ricky Bobby." (Is anybody besides me wondering why they called this movie "Talladega Nights" when there are no lights at that track? What's up with that?) Well, just when the cars got to rolling on the parade laps, the rain came down and soon enough our hopes of a race on Sunday went out the window.
Meanwhile, back at the track on Monday... It looked like nearly everybody came back; must have been a lot of lies called in to jobs that day. But as the announcers pointed out, people just love that track. (Actually on Sunday, I took a break from watching FOX stall and strolled around the Inman Park Festival here in my neighborhood. There I ran into famous singer/songwriter Richard Bicknell, whose dashing bud Tim told me a whole slew of his relatives was over at Talladega in a half-dozen lined up motorhomes, on a dream trip they'd been planning for two years! I best sure enough they stayed for Monday.)
Well no sooner had the races gotten up to speed when there was a huge pileup, on lap 9. A bunch of guys got caught up, including Kasey Kahne, who had to go to the hospital for a checkup, poor dude, but he's OK, thank goodness. Next came a caution for the cut tire of Kevin Harvick. Under the yellow, Mikey drove right by his pit stall, like some batty auntie who inexplicably forgot, after 40 years, where she lived!
Next Greg Biffle's car broke. You know I am not a Biffle fan, but I have new respect for the guy after watching an interview where he described how he and his gal do a lot of stuff to support the Humane Society, encourage pet birth control and find homes for homeless pets. That's doing the Lord's work, for sure.
Next, Jr. went for a wild ride, spinning crazily through two turns before coming to a stop right after bopping the nose of the #20 car. Jr. can drive through a spin like a Shriner on speed -- it was almost like he was extending the spin to give the maximum number of fans a close-up look! Jamie, who led a couple of times, ran over a tire skin that peeled off the #34 car. Jeff Gordon led the most laps and was riding up front with 1.5 laps to go, then shockingly got shuffled back to 15th! Brian Vickers had a great day and was set for his first Cup win until teammate Cheatie Johnson came out of nowhere to take the victory. Too bad Brian, but "good ride cowboy, good ride!"
OH KASEY, OK!
By now, we've all seen the AllState commercial where the carload of girls is so enthralled at a Kasey Kahne sighting that they knock down a huge signboard. Well the new one that aired on Sunday is even funnier: One of these lovestruck chicks has a whole elaborate fantasy about Kasey. She's all snuggled up against him riding in the car around the speedway; they're doing all sorts of date stuff; and finally (in a nice, softcore touch) obviously fixing to get busy -- then she snaps to just as she's crashing into a giant inflatable mechanic (think Lard Lad Doughnuts on The Simpsons), who drops a house-size tire that crushes the #9 car! Let that be a lesson to us all: Keep your mind on the road. Oh yeah, and kids: Stay in school, by the way.
That's it for this week, precious angels. See you for Richmond on date night -- let's all meet up down at the Track Bar!

Love,
Betty Jack DeVine
PS: for some really hilarious NASCAR commentary, check out those Girls Gone Racing Susan & Christine at their
Live from the Seneca Lodge Bar blogspot