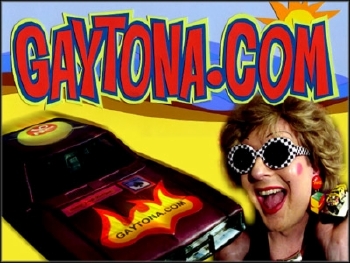 FROM WHAT I'M HEARING
May I link to the site please?

Išm working on my site and plan a link to some of my passions. The biggest is motorsports! NASCAR, Busch, Craftsman Trucks, NHRA.

I am a retired NHRA Top Fuel Funny Car driver, and a certified, NASCAR JUNKIE!!!

Please check what I have of the site (only the first page is done) and let me know if I may.

Respectfully, pup
LeatherBoy



http://hometown.aol.com/EastSFBaysub




---

Hey sugar --

Thanks for writing! You are welcome to link to gaytona.com!

If you have any fun gay stories about NHRA or other racing you would like to share, pass them on!

Thanks and have a great day.

Love,
Betty Jack DeVine


---

GreetingsŠ

> If you have any fun gay stories about NHRA or other racing you would like to share, pass them on!

Unfortunately, I do not. However, there is a multi-time Pro Stock Champion Driveršs son that is gay. And I have my suspicions about _____________, he is definitely cute enough to be gay. He was also a high school cheerleader. Now, the only other male high school cheerleader Išve ever known (my best friend) was a FLAMMING Queen!

There are a couple of other crew members, but it is usually a silent nod to each other in the pits and no fraternization between all of us.

Now when I drove, my father was the car owner, I drove and my partner was my crew-chief. Wešd been together MANY years and were well known around the track. In our team, it was known, it was impossible not to, about our relationship but uncommented upon. My partner Steve was the ONLY person that was allowed to pack my parachutes!

Respectfully, pup
Leather Boy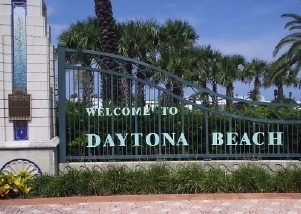 Daytona Beach is a delight 24/7 - CLICK HERE FOR GAYTONA.COM'S GAY GUIDE TO DAYTONA BEACH











Betty Jack's Track Yack
Phoenix 500
Welcome, gay NASCAR fans! I hope everyone had a blessed Passover and Easter -- I sure did. I'm updating late this week, and this is gonna be short n sweet, so hold on, little Timmy, hold on tight!
The invocation Sunday was brought by the Rev. Ken Bowers, chaplain of the Phoenix International Raceway. The good rev prayed one of those prayers that sounds more like a commercial, loaded as it was with brand names. Josh Kelly sang the National Anthem; there must have been some confusion about the start time, because he finished the anthem well before the four unidentified jets came for the flyover. Giving the start command was Sen. John McCain. I'm still upset with McCain for an interview some years back in which he was most unpleasant and disrespectful to Sen. George McGovern, a hero of World War II and one of the greatest Americans of the 20th Century.
Krazy Kyle sat on the Bud pole, but Biffle led the first lap. We had a caution for debris (lap 26), then for a blown tire by Dave Blaney. An accident in the pits gave Carl Edwards a tire rub, continuing his bad luck. Krazy Kyle was the leader but was sent to the back for speeding on pit road. Mark Martin took over the lead. Scott Riggs bounced off the outside wall, then the inside wall, bringing out the caution at lap 88.
More bad luck for our team came when Elliott Sadler wrecked, and Mikey wrecked, too. Casey Mears wrecked Krazy Kyle, bringing out the red flag. Reed got in it, too. Under the red, Kyle hit Casey's car, and NASCAR was so mad they made him sit out FIVE LAPS. Because he is KRAZY.
Mark Martin was the leader at the restart. Everybody settled down, and after a while there were green flag pit stops. The #6 was just about to lap Jeff Gordon when the caution came out at lap 199. J.J. Yeley's spin caused a caution at lap 211. When we restarted, Tony Stewart grabbed the lead with 95 to go. The next wreck included Ryan Newman and Jr., who got into Kyle Petty. Verily, there were seven cars in this seventh caution, I say unto you. Yet again, FOX's live coverage was focused elsewhere and did not catch the wreck until late -- "piss poor," as my Daytona Beach neighbor Wesley might say.
Biffle led with 72 to go. In a long green flag fun at the end, some gave up position to come in for gas -- Jamie -- and some hung it out and wrang it dry -- Mark, Biffle -- and in the end Kevin Harvick was "Happy" indeed as he took the checkers.
REMEMBERING RACING'S FIRST LADY
We note with sadness and enormous respect the passing of Louise Smith, the storied "First Lady of NASCAR." A native of Barnesville, Ga., Louise was just 4 when she and her family moved to Greenville, SC. The first car she encountered was her daddy's Model T -- and she was just a tot when she climbed in one day, "couldn't get it stopped," and drove right into the family's chickencoop.
As a young woman, Louise was already a pro at outrunning the local po-po when Big Bill France came trolling for a lady driver who would hit the track as a novelty act. "I'd never even seen a race," Louise admitted later. Even so, she strapped in at the Greenville-Pickens Speedway and finished 3rd her first time out. She went on to race for more than a decade and won 38 non-Grand National (sub-Cup) events.
The most famous Louise Smith story involves the 1947 Daytona Beach race. Her husband had just managed to snag a brand-new Ford (quite a feat in the post WWII days), and Louise borrowed it to head to DB and watch the boys on the beach. But when she got there, she couldn't resist the urge to enter! Of course, she tore the car up, dropped it off at a relative's to be repaired, then came home grousing to her hubbie that his new car was a lemon. Imagine her shock when he unfolded the Greenville paper, which had full coverage of her wreck!
Late on in her life, Louise still drove a Buick sedan (like me!) and frequently lunched with her girlfriends at Bill's Restaurant on White Horse Road in Greenville. Gaytona.com fondly recall this great lady and her passion for racing. Louise Smith was 89.
THIS CAT'S A RACE FAN!
Last week on PBS, I happened to catch a really cute show called "The Standard of Perfection: Show Cats." This Australian-made documentary follows around a bunch of people who raise these outrageously fancy cats and take them around from cat show to cat show. These folks were real characters and lovingly detailed the many steps involved in keeping their show cats fluffy and proud.
One lady said the cats most likely to put up with the noise and confusion of the show ring are those that are unafraid of the vacuum cleaner at home! And my favorite lady said her cat loves to watch racing, and sure enough, this cat just sat there transfixed while some racecars on TV went round and round! The best thing is that while the directors obviously realized these cat fanciers were oddballs, they didn't judge them or get snarky -- they just let them run on and on about their kitties. PBS is airing the show again on April 26 and 30. Check your local listings enjoy the show -- it's as much fun as a basket of kittens!
THAT'S JUST TACKY
In a pre-race "10 Laps with..." interview Sunday, Krazy Kyle Busch most ungraciously boasted of how when you're a driver "you get your share of pit lizards hanging around." Mercy, you would think such a plain-looking fellow would be grateful for any sex at all, instead of throwing shade on those who are kind -- or desperate -- enough to put out for him!
That's it for this week. All y'all that's going to Talladega, have a shot of Crown for me! Let's all meet up down at the Track Bar!


Love,
Betty Jack DeVine
PS: for some really hilarious NASCAR commentary, check out those Girls Gone Racing Susan & Christine at their
Live from the Seneca Lodge Bar blogspot