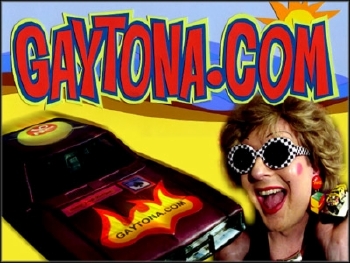 FROM WHAT I'M HEARING
Just moved to Orlando area from kentucky and must say l am lost... where does a guy go for fun?? l also spent some time at daytona and could not find any gay bars there either? arent there any gay bars in this state? what about bath houses? have not seen one of them since l left dallas. What happened to them?? Jake Baby

---

Jake B

Check out my Fun Guide to Daytona Beach for all the gay hotspots and more and thanks for stopping by.

Love
Betty Jack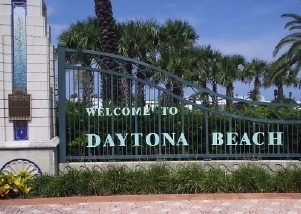 Daytona Beach is a delight 24/7 - CLICK HERE FOR GAYTONA.COM'S GAY GUIDE TO DAYTONA BEACH













Look who's linking to Gaytona.com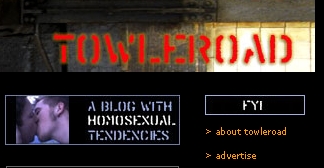 They've got that beefcake ESPN Mag cover of Carl posted there too -

click here to enjoy

Betty Jack's Track Yack
Martinsville 500
Welcome, gay NASCAR fans! Did our boys put out this week, or what? I'm talking about FIVE in the top 10 and NINE in the top 20! In the points, we've also got ELEVEN buds who would be eligible for the Chase at this point. Keep it coming, DeVine 9 1/2! Speaking of buds, how about that Jr.? Car gets so tore up on lap 2 it looks like half a horror movie but Jr. still whips it to a 4th place finish? Go Jr.!
In the run-up to the race, there was backstory galore with the FOX announcers playing their roles as neighborhood wags blabbing over the backyard fence about who's about to whup who's ass this week. (Wouldn't it be great if they'd dress up DW, Hammond and Larry Mac like mill-village housewives and have them slung up out by the pumphouse, gossiping on about all the fussin and cussin from last week?) In an interview, Jeff Gordon allowed that even with the $10,000 fine, he would still have shoved Kenseth after Bristol.
The fans' reaction? My mother, Mother DeVine, was so outdone with Jeff that she threatened to take his picture off her refrigerator! (Thankfully, I was able to dissuade her from anything so drastic.) But I suspect many folks felt like my reader Lympus69, who chimed in thusly: "I am just glad that finally Jeff got himself a set of balls and showed them to us on Sunday. So, he was fined $10,000. If I had the money I would pay the fine for him, hope he shows us some more of his new found equipment."
The show began Sunday with a rendition of "God Bless America" sung by Danielle Peck. During this song, I made a note that a chunky fun-looking dyed blonde dude I'd seen before was standing beside Kasey again. I need to look him up and see who he is -- he's kinda country cute, ya know? Becky Baghling sang the National Anthem with a great deal of emotion and a whole lotta vibrato. The 193rd Special Ops Wing provided the mass blow-dry from above. The #48 sat on the Bud pole and led the first lap.
But look out there's trouble right away and Jr.'s car looks tore up bad! He came in multiple times for them to fix it as best they could and got back at it. At lap 29, Jamie, who'd been on the outside front, passed Cheatie for the lead! Shortly though, Tony Stewart passed Jamie. After while, Jeff Gordon had a flat tire. At lap 109, Biffle crashed. Kurt "America's Sweetheart" Busch spun Jeff Burton.
With 184 laps to go, Jr. got in another wreck after Ryan cut him off. (Remember, Ryan: "Thou shalt not wreck thy fellow DeVine 9 1/2 bro.") With 123 to go, poor Kasey's car tore up! Then Stanton Barrett got in a wreck, which was interesting exposure for his sponsor, Hairofthedog.com. (I had hoped someone was brilliantly targeting the NASCAR crowd for a product that can wipe out Sunday afternoon's excesses in time for Monday morning, but it's actually just a type of beer.)
I do believe I heard, during a caution, DW holler, "He's beating Tony off!" With 26 to go, it was Elliott hard on the #48 car in back of the leader, Tony. After Elliott skinned the wall, Jeff bumped past the #48 with 17 to go. With 15 to go, Nemechek hit the wall. There was a restart with eight to go -- but Kenseth had a wreck that brought out the red flag for clean-up. Don't you have to imagine the fans were getting restless about this time? Anyway, after some yellow laps, we got the finish which was Tony, Jeff, Cheatie, Krazy Kyle and Mr Sugar, Elliott Sadler.
CONGRATULATIONS, NASCAR DAD!
We report with joy this week the birth of Atlantan Bill Lester's son, whose impending arrival was much discussed during Bill's Cup debut at Atlanta Motor Speedway last month. Our track babes Amy and AJ are friends with Cheryl, the new mom, and so we are doubly happy. Here's the cute press release I got from AMS:
Bill Lester Welcomes a New Son

(March 28, 2006 Atlanta, Georgia) Barely a week after the excitement of racing in his first NASCAR NEXTEL Cup race at Atlanta Motor Speedway, Bill Lester and his wife Cheryl had another major event to celebrate ... the birth of their second son, Austin Richard Lester, who arrived on the starting grid at 1:56PM on Tuesday, March 28, at 9lb Ooz and 20.5² tall. Following the introduction ceremony and command to start your engines, he immediately posted competitive nap times. Mom, dad, baby and brother Alex are doing fine.
IMPEACH BUSH
How much money do these AMERICAN AND ARAB oil and gas companies have to steal from us before everybody finally sees that the FAILED OIL MAN who STOLE THE PRESIDENCY is ROBBING US to give OUR MONEY to his masters, the RICHEST PEOPLE ON EARTH? Just asking...
Well that's it for this week precious angels. See you Sunday for Texas! Let's all meet up down at the Track Bar!

Love,
Betty Jack DeVine