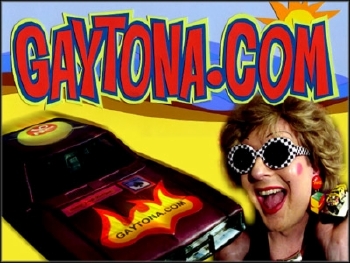 FROM WHAT I'M HEARING
Hello Betty Jack,

I stumbled upon this website by doing a Google search of NASCAR+gay and there you are! I was fortunate to have been at the Daytona 500 - my very first experience of NASCAR. An out-of-town closeted married guy into chubs offered me a free ticket to accompany him to the race (his "buddy" couldn't go to the race, so he invited me). We had terrific seats in the 3rd row in the SuperStretch area, with a terrific view of Turn #2.

I knew nothing about the sport, and frankly had a pre-conceived idea of the type of people who appreciate it. Fully anticipating women in tube tops, too much makeup and bad hair, mullet guys with a dangling cigarette and a severe lack of teeth, I was actually blown away by the power of the race. The cars, the speed, the excitement, the sounds, the smells, the anticipation of crashes!

Although I wasn't scared, per se, I was quite aware that I may actually be the only gay guy at the race. I did see a number of lesbian couples, but no other obviously gay men. What a surprise to find this website!

I have a couple of questions, if you don"t mind:

1) Are there actually gay men who are into this sport? Where are they?

2) Has NASCAR ever had gay drivers?

3) Are we welcome at events?

I must say, however, that I was a little put off by the booing (especially Jeff Gordon - what has he ever done to deserve such booing?). I can understand supporting your favorite driver. In fact, it almost appeared to be a "religion", with fans dressing in the symbols of their particular "church". The overwhelming "worship" of Dale Earnhardt Jr. (apparently the "only begotten son" of the Father) seemed almost sacrilegious. But booing just seemed inappropriate. I felt underdressed, with not some number and corporate logos emblazoned anywhere on my clothes.

Then, there was the worship of commercialism! I have never seen so much corporate endorsement. When they say The Great American Race, I wasn't sure if they were referring to the American love of racing or the great race for the Almighty Dollar! I was pleased however, to find a car to root for -- #49 had "Vera Wang" in big letters on the hood. You go girl! (Little Debbie was a close 2nd, but Ms. Wang had my vote!). The bitch didn't win, but she did come in at a respectable 21st. Brent Sherman, the driver, isn't bad to look at either!

In any event, I found myself having a new appreciation of the sport. The overall sense that NASCAR folks are nice, friendly people was obvious, and I had a real feeling of being an American at a truly American event.

I think the Parliament House in Orlando should sponsor a car. Any ideas on a color scheme? And who would we get for corporate sponsors?

Sincerely,
Stephen
New NASCAR fan

Orlando, FL

---

Stephen - Welcome to The Show. It's wonderful to hear you had such a good time.

You weren't the only gay in attendance as my friend was selling sunglasses that day in a sunglasses kiosk so there was at least one other gay there.

As for your questions, yes there are gay men into the sport - just look for the "brokeback" trailers; 2) we never ever speculate about any driver's "lifestyle" here; 3) you are welcome at all NASCAR events unless you don any Kurt Busch gear. You'll get many derisive comments if you do.

As for a Parliament House car, I would suggest Top Fine Gummed Cigarette Papers for a sponsor. I remember from my first visit to the Parliament House seeing a thonged gentleman sitting on the bed in his room with a sign on the door that said "Tops only". Top is such a good fit with that Parliament crowd.

Thanks for sharing your "first time" experience.

Love
Betty Jack
Elliott and Jeremy - all suited-up and ready to roll.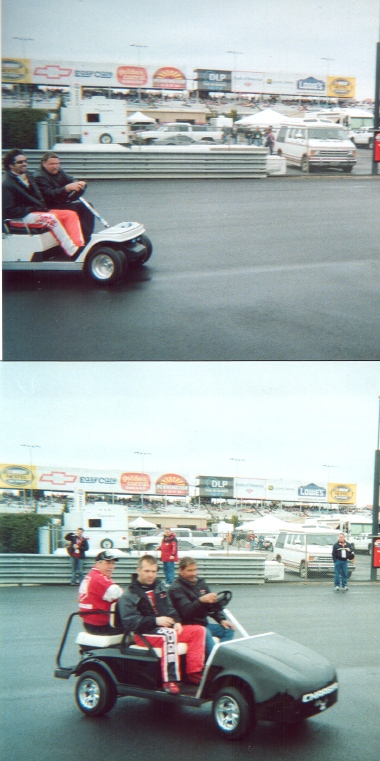 Betty Jack's Track Yack
Atlanta 500
Welcome, gay NASCAR fans! On Saturday night down in the Atlanta infield, a wiry older gentleman sidled up to Randy's kerosene heater and said, in response to a question, "hell, don't ask me, I'm on a three-day drunk!" Well, I hope he brought a couple of extra cases, because you needed to be on a four-day drunk to see the Atlanta race weekend through to the checkered flag. This time, the forecasters got it just right: Clouds moved in after midnight Saturday, and we were awakened Sunday by the sound of rain on the trailertop. As I had to be back at the j-o-b on Monday, I missed the running of the Golden Corral 500. On TV, the speedway looked way less than half full. Y'all who were lucky enough to be there got the closest thing there is to a "private" Cup race!
Congratulations to the DeVine 9 1/2's hot dog Kasey Kahne, who brought home our team's very first trophy this year! Way to go, Kasey! Congratulations also to Bill Lester, who turned in a solid qualifying run to make the show, then stuck with it for the entire race Monday. As the news media informed us endlessly, Bill is the first African-American to make a Cup race since Willy T. Ribbs in 1986. Willy T. Ribbs! What a great name. The first time I read that (on Jayski.com) I confirmed it somewhere else to make sure no one was pulling my leg!
Before I go any further, let me send out a huge THANKS to Amy and AJ, who once again opened their trailerhome to me for the Atlanta race. These gals work so hard making sure the Prowler is packed to the cap with all the comforts of home. We had so much to eat and drink, and in the chill of the night we slept as cozy as pups. Thanks a million y'all! And Happy Birthday again to AJ, who celebrated her 30-somethingth birthday on Sunday.
I arrived Friday night during Bud Pole qualifying and happily greeted the gals and Randy, the next-trailer neighbor. Before long, here came the Spain clan: handsome Reuben, his foxy chick Megan (who's due to have a baby in September) and his younger bro Josh (who's such a cutie I could barely talk around him cuz my tongue was hanging out the whole time!). I started watching the truck race from the trailertop but got so cold I thought I might freeze solid and fall off, so I eventually got down and started to roam the infield.
After the race, the girls quickly retired to the toasty Prowler and I stayed up late boozing with Randy, his best bud Larry, and their pal Ken. I reminded Larry how hard he'd made me laugh at earlier races with this scam he runs at the fence on Sunday night: As people are leaving, he calls out to them, "Hey, can my daughter have your hat?" If he gets no response, he adds sweetly, "She's two years old." "I've gotten about 70 caps that way!" Larry allowed proudly. Randy's kerosene heater (the kind used in citrus groves) was a real ice-breaker as strangers of all stripes came by to warm up. After we survived a midnight stagger through the infield and made it back to Turn 2, I called it a night and burrowed under the quilt on the Prowler's comfy sofa.
VVVRRROOOMMM! Good luck sleeping past 9 on Saturday, which is when the Cup cars hit the track for practice. Between the hangover, the clouds of carbon monoxide and the screaming engines, I felt like zombies had played soccer with my head all night. But the pain passed directly, and we all got busy getting ready for another big day of racing. After Reuben, Megan and Josh rolled out of the Pontiac hatchback they were crashing in (they couldn't find anybody with a trailer to bring to their spot this time), the four of us set out to explore the Salute to Capitalism -- that is, the massive assemblage of trailers selling and/or sampling things out front.
First stop (for the guys, anyway): the trailer giving out bags with several kinds of dipping snuff, a pouch of RedMan chew, and -- are you ready? -- a tube of toothpaste. Honey, you won't be having to brush those teeth for long -- that poison will turn you into Gummy Joe. They need to be giving you a coupon good for $1,000 on jaw reconstruction surgery. Next stop: the Delta display, where we waited in a long line to get up to a pachinko-link game where you drop a disk past some pegs and you get whatever prize it lands on at the bottom. But here's the twist: The cute Delta boy asked each person what they wanted, passed a signal to someone behind the game, and everyone got their heart's desire! (500 Sky Miles for me -- I need a beach break! But gee, if Delta goes under, I'm really going to hate that I didn't get that keychain.) The other funny thing at this booth was that people were lined up to have a face painter paint your choice of three Delta logos on your child's face! Every product should take this up, until every child at every racetrack is peppered with corporate logos, just like the racecars!
Well, directly I split off from the kids, who continued collecting loot. I was on a bit of a mission: At Daytona, I'd bought two Jamie McMurray T-shirts, and I realized one was the wrong size. I'd paid cash and didn't save the receipt, but the fellow was just as nice as you'd think Jamie's employees should be, and he gladly made the switch. Very cool.
After a quick sandwich, it was up to the trailertop to see the Busch race. Right on schedule, the clouds parted and we enjoyed the race in the afternoon sun's golden rays. After the race, the sun went down, the kerosene heater fired up, and Saturday night got going. At the speedway, you never run out of something crazy to listen to. The wiry old man I mentioned at the top told us that the gas for his motorhome and generators for the weekend (from and back to Peoria, Ill.) cost him almost $800! And believe me when I tell you, you don't need to be shy about speaking up against Bush at the speedway. Everybody I talked politics with was so sick of Bush.
Tonight Ken and I alone toured the infield, and along the way met a cute college dude who said he'd almost gotten beaten up by a bunch of guys because he helped a dancing drunk girl down from the tabletop before the guys could gang-rape her. He also said he'd nearly gotten in several fights because of the borrowed Gordon jacket he was wearing. I think he's just a contentious type of personality, myself. Well, after a while the cold kind of wore me out -- in spite of those shots of delicious Crown Royal Reserve, thanks Randy! -- and I called it a night. But late in the evening, someone looked up at the moon and said, "looks like the clouds are rolling in." A bad, bad sign...
And the next morning... rain on the trailertop. Yes, just like it was foretold, rain moved in after midnight in a big wet mess that stretched back across the South. Right away, it looked like we would hope in vain for racing that day. But even in the rain, I headed out for some driver-spotting. Sunday morning is a great time to look for drivers. In Atlanta, you can catch them passing through fenced walkway from their motorhomes to the driver's meeting -- that's where I spied Brian Vickers, Truex Jr. and Jeff Hammond. Also, you can see some of them being whisked out of the garage area on golf carts after their meeting -- that's where I saw Joe Nemecheck and Mikey Waltrip (who was draped across the back of the cart with one leg slung over the other and his NAPA cap pulled low against the drizzle, looking very much like a lounging Greta Garbo).
But the best place for watching is the exit from the drivers' compound, because when they leave there for the introductions they're suited up in their racing colors! That's where I saw Dale Jr., Kurt Busch, Jeremy Mayfield and that gorgeous Denny Hamlin (he so big!!). I raced back to the trailer and grabbed a bite just before invocation was brought by Atlanta Motor Speedway Chaplain Bill Brannon, and the National Anthem was performed by 33 Miles. Then an enormous B-52 roared up, flying super-low because of the cloud cover, and showing up behind us this time, so it was on us before we knew it! Woo-hoo!
But after that, it was wait... and wait... and wait some more. As the track passed from gray to shiny black, more and more people downed that last beer and called it quits for the day. Out in the infield, folks were packing it in. I saw two older groups of friends parting, and the love that passed between them was almost overwhelming. Old dudes just bear-hugging each other, holding on so tight for one last moment. ("Til we meet, til we meet, til we meet at Jesus' feet, God be with you til we meet again.") I did my share of hugging, then set out on an increasingly desperate journey to find out where among The Speedway's 850 acres I'd parked Aunt Pitty on Friday night. At last, we were reunited, and it felt so good!
Dixie called on the cell to notify me the race had officially been postponed, and I was lucky enough to get out in front of some of the gazillion cars headed back to Atlanta, and on beyond to the far North. I saw folks in a motorhome with Pennsylvania plates, their windows still covered with racy endorsements: "Kahne McMurray Gordon." I thought of the hours and hours ahead of them on the road, the night around them getting darker and colder by the mile. Were they bitter? Did they feel they'd wasted the couple of thousand dollars this weekend cost them? Maybe, but probably not.
On the way back to the car, I'd found the most curious thing: an old country cemetery in the middle of a parking field, fenced in black iron, on a tall hill with a view of the track obstructed only by the billboards. If that cemetery were active, I guarantee you some of these folks would pay any asking price to arrange to lay their earthly bones down here, where the wind carries the ring and scream of the engines, and the magic incense of gas and tires and track. People just love it that much.
That's all for this week, dudes and dolls. See you at Bristol. Let's all meet up down at the Track Bar!

Love,
Betty Jack DeVine