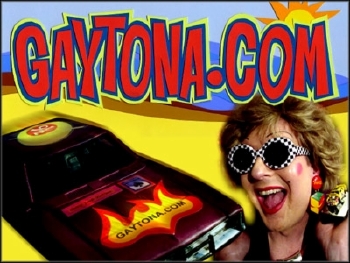 I Love Daytona Beach!
CHECK OUT MY FUN GUIDE
TO DAYTONA BEACH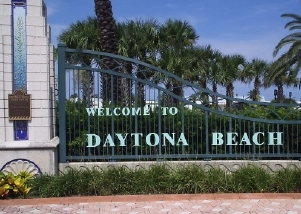 Daytona Beach is the World's Most Famous Beach for many reasons!
CLICK HERE FOR MY "Fun Guide To Daytona Beach for Gay and Lesbian Visitors to Florida"
THE ATLANTA 500 THIS YEAR
IS ON MARCH 8, 2009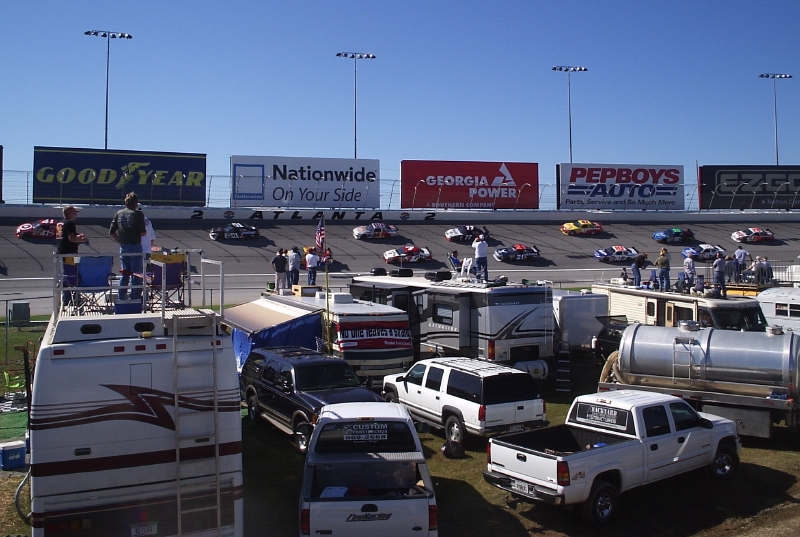 I'm planning to be watching it from atop the luxurious 5th Wheel of my pals Amy & AJ in Turn 2. If you want to see some fast racing, plan a trip to the Atlanta Motor Speedway that day.
One of my thrilling experiences
during Daytona Beach Speed Week 2009
was meeting ARCA racer Alli Owens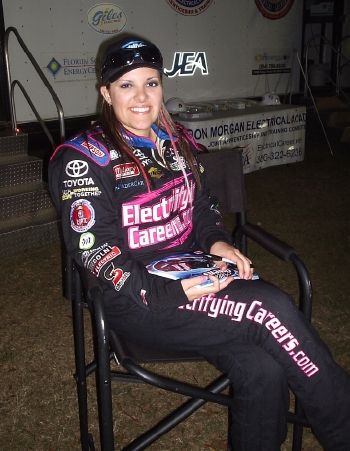 photo by Dixie Richardson
FREQUENTLY ASKED QUESTIONS
Who are y'all, anyway?

Gaytona.com is a project of Betty Jack DeVine, who creates the content, and Dixie Richardson, who designs and maintains the site.


Are y'all a gay couple?

Yes, since 1981!


Where do y'all live?
Atlanta and Daytona Beach.


When did y'all start watching NASCAR?

In 2001. However, because we are both natives of South Crazyland, we were aware of racing from our babyhood.


When did you start Gaytona.com?

In 2002. We announced the members of our first DeVine 9 1/2 fantasy team in 2003 and began posting commentary about the races that year.


What's the purpose of the site?

The site is our attempt to offer appreciation and commentary about the season from a gay point of view. We love racing and the great people you meet at the races!


Are there any gay NASCAR drivers?

There might could be -- and that's great if so -- but that's not what the site is about. We're just having some zany gay fun with America's coolest sport! I did go out on a limb at the end of '08 and predict that a Cup driver would come out this season. If that happens, I want credit for my future-seeing!


How do you pick the members of the DeVine 9 1/2?

We pick guys for the team who are sharp, fast and amusing -- guys who make the sport interesting to watch -- guys we want to win -- and guys we'd love to see show up at the trailer late one night in the infield, when the Crown is going around and everyone's feeling fine!


Why "9 1/2"?

That is Betty Jack's shoe size.



FOLLOW THE GAY RACING DARLING!

Evan Darling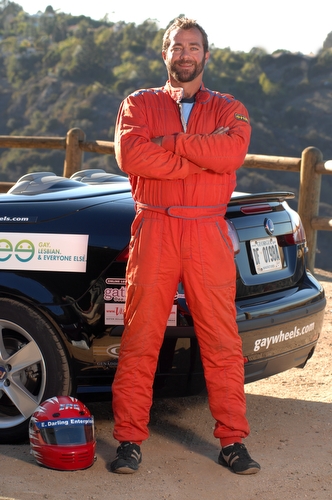 EVAN DARLING IS A PROFESSIONAL RACECAR DRIVER BASED IN FLORIDA. CHECK OUT EVAN'S WEBSITE FOR MORE INFORMATION



http://www.edarlingenterprises.com/

Welcome, gay NASCAR fans! Y'all I just got back from the most FABULOUS time at Speed Week in Daytona Beach, Fla.! What fun we had! Let me tell you this right off: If you are a NASCAR fan, you MUST experience Speed Week! It's just unreal to be around so many fans in a town where there's so much racing history. The stores feature all the latest racing swag -- we picked up three new "track legal" coolers! -- and there is something fun to do just about all the time. As soon as we got there, Dixie and I started clipping items about events we wanted to go to, and plotting out our whole week's schedule!


We started off on a high note Sunday night when we were the guests of Jimmy Harper and his charming beau John at their benefit art party for Betty Jane France's Speediatrics Foundation. We were delighted to be invited, and even got to see Ms. France herself -- wonderfully blond and gorgeously clad in a shiny black top and cute zebra-print slacks. Jimmy owns the 508 Gallery in Ormond Beach, and honey he is quite apparently just the T of Daytona society! (For any of you ATL queens from the golden age, Jimmy used to live here and frequent Velvet and Mr. Chuck's glittering "Popcorn" parties.) It was a great night for a great cause: Ms. France's foundation is a huge benefactor of the kids' ward at Halifax Medical Center.

On Tuesday, which was gloriously warm and sunny, we headed out to the beach for a terrific Speed Weeks tradition: the Living Legends of Auto Racing's Parade of Old Race Cars! These old racers recall the time when Our Sport was born in Daytona on a crazy course that was half-road, half-beach! The newest cars were from the '70s -- most were way older, and it was great to see them out snorting and blowing and kicking the sand around!

Later, we headed for Beach Street and the opening night of Ford's Rock and Race Fest, where we were delighted to meet Alli Owens, the driver of the #12 car in ARCA racing. Alli is so cute: She has blond highlights and wears lots of eye makeup, but in a racy way. (Yes, Amy & AJ, we put in a good word for y'all, so maybe you've got a chance with her!) She's also a Daytona Beach native, and her sponsors include the Pirate's Cove Resort on the oceanfront! It was interesting to check out the Fords that were on display at the fest, but the prices on them were quite shocking. When we visited the Toyota display later at the Speedway, it was amazing what a better value their cars are. What is Ford thinking?

We were up early on Wednesday and on our way to Practice Day, a fun Speed Week tradition for Dixie and me. For just $15, you can sit anywhere you like on the front stretch and see all three of NASCAR's top divisions out running laps at speed. The Weatherly seats have views of the first few garages -- through the binoculars we did some good spying on Jr. and Scott Speed! Kasey Kahne was fastest in the first practice; Aric Almirola was quickest in the second. Towards the end of the second practice, the smoke flew as Mikey, Jamie and David Stremme got tangled up! What a beautiful day -- 85 degrees it was when we got back in the car!

(Here I reckon I'd better backtrack and catch you up on the racing so far in Speed Week. The action got off to a hot start in the ARCA race Saturday afternoon; we caught the end of that one, which James Buescher won, in the Penthouse Lounge at the Streamline Hotel. In the Bud Shootout later, we were so pulling for Jamie: He was leading on the last lap but got passed by Harvick. The difference between 1st and 2nd place? $100,000. Ouch. On Sunday the outcome of qualifying was a dream-come-true for headline writers: "Martinsville" was the choice of the News-Journal after Martin Truex Jr. took the pole, with Mark Martin on the outside front row.

As I've said, if you pay attention you can find a million fun things to do during Speed Week. On Friday, we heard that the Ocean Deck -- Daytona's top beach club -- was having a concert starring Lady Antebellum, perhaps the fastest-rising group in country music. These kids put on a lively show that included several smokin' covers in addition to their own popular tunes. They closed with their big hit "Love Don't Live Here." Fabulous!

On Saturday you could feel the buzz in the air as thousands of folks beered up for the Nationwide race. While we were waiting for our lunch at Hull's -- home of THE BEST seafood (eat-in, take-out and fish market) in Daytona! --we watched a local news report that said the guys selling "500" tickets alongside the road were getting "nowhere near" face value. Hmmm... The weather was fine for the Nationwide contest, which was won by Tony Stewart.

But that night -- r'uh r'oh -- some big old wet Florida clouds started moving in. Sunday was gray, cool and windy. Although the FOX announcers said it rained hard that morning, we saw next to no rain at our house, just three miles away. We kept our fingers crossed that the rain would hold off! Keith Urban put on a great mini-concert. With seemingly everyone pre-recording their "live" TV performances these days, it was terrific to see this hottie so obviously performing live. Keith served up his "Days Go By," "Sweet Thing" and "Better Life" clad in a tight, sexy Daytona Beach tee.

Other than that, however, the pre-race show was a bore. I am already so sick of Digger, the animated gopher or field-rat or whatever he is, that FOX has created to junk up the screen when they show a shot from the in-track camera. Apparently Digger is going to have his own cartoon with new adventures every week or some such. Gay NASCAR fans, do we really need this? The most ironic thing is that FOX's in-track cam is nowhere near as good as the first one we ever saw, the Corn-Cam at the Iowa Speedway. That one really makes you grab ahold of your head.

Well directly the race got going, and here's some of what happened. Truex led the first lap. Aric Almirola brought out the first caution. Were tires already becoming an issue? After a while, Travis Kvapil hit the wall. During this caution, something really weird happened. Jr. -- who had already set off an ovation by leading some laps -- came in and completely drove right by his pit box. Didn't even try to get in there. Just drove on by. This set off a flurry of clucking in the FOX box. (Later, Jr. said that all the pit signs were pink this week, and he couldn't make his out.) Next came the wreck-out of Joey Logano, the youngest driver ever to start the 500, and certainly one of the most talked-about drivers of Speed Week.

With 86 laps to go, Jeff Gordon came in for bad tires. Could it be they were just good for 29 laps or so? When the camera showed the excessive wear on the #24's tire, Darryl Waltrip said, "That made ME draw up, and I'm sitting up here." I love it when DW talks about "drawing up."

After a while came the day's biggest wreck. Depending on how you saw it, Vickers went spinning because he threw an unsuccessful block to a low-charging Jr., or Jr. punted Vickers in a messy passing attempt that was out of bounds anyway. What was funny was that ole DW immediately laid the blame on Jr., then began to backtrack, and before you knew it had exonerated Jr. altogether! Amazing! In interviews, neither Jr. nor Brian backed off -- each vehemently blamed the other. Brian even suggested that Jr. was a candidate for something like the five-lap rough racing penalty NASCAR had laid on Jason Leffler in the Nationwide race just one day before. Jr. seemed uncharacteristically combative in talking about what happened. (During the following week, talk turned to "what can Jr. do to save his season" -- and this after one race!)

With the race more than half over and rain coming from the West, long-term strategies turned short, and drivers were more worried about where they would be if the race were called early. Matt Kenseth ended an impressive run at the front by Elliott Sadler, just in time to be the man when the race went yellow for rain, then was called. Matt's win was undramatic but it was real, and he was touchingly broken-up to claim his first Daytona 500 Championship.

Should NASCAR have made an attempt to get going again? I believe if they had started drying the track at once, they could have probably gotten in a few more laps. But just a few, because then more rain moved in, and after that it kept up steady. A bigger question, which many people have noted this week, is whether it made sense for NASCAR to wait until 3:40 to go green when it was clear that rain might be a factor. Back everything up by an hour or two, and it seems like they could have gotten the whole thing in. Still, there was lots of exciting action, and I'm sure the people who were there in person feel like they saw a show.

We closed out our fun week Monday with a lovely drive up A1A to Marineland -- the wind was driving the waves so hard it looked like the Pacific -- followed by a little dinner and dog racing at the Daytona Beach Kennel Club. What a time we had! Believe me when I tell you honey, Speed Week is the deal!

This just in... Darryl Waltrip said during Cup qualifying at California that Jeff Burton had just taped an appearance for an upcoming episode of General Hospital! I think DW said it's airing in March or April?
---
Welcome, gay NASCAR fans! Well if you're a fan like me, it seems like FOREVER since we've been racing -- since we've heard that thunder and smelled that air alive with gasoline and rubber. Even if there's snow on the ground where you are, you know when you hear those engines firing on the high banks of Daytona that summer is just around the corner! To all our friends from far and wide, welcome to the 2009 NASCAR season at Gaytona.com!
GETTING DOWN TO BUSINESS: In NASCAR these days, the shop talk of "silly season" has left the back office and is sharing the main stage with the big boys. If you're a fan at any level, you cannot be unconcerned about the effect this economic crisis is having on Our Sport. Already last year we saw teams fold mid-season, the DEI-Ganassi merger, the end of Sears-Craftsman's long relationship as Truck sponsor, and way too much bare steel in the stands at tracks week after week. Add to that all these bank failures, mass layoffs and the automakers threatening to chain the plants shut in about five minutes, and you've got a recipe for a moonshine-bad headache!
The seriousness of the situation is reflected in the pre-season media coverage. If last year's early story was "How About that Car of Tomorrow?" this year's might be "Who Will Still Be in Business at the End of the Season?" Here's what racing magnate Humpy Wheeler told the Sporting News in answer to a question about the pressures on teams: "It's more than scary. If we did not have the TV contract we have, we would be in such a world of hurt right now, you would actually see tracks close. That's how perilous we are. We can't just sit back and solely depend on television." Yikes. In the same interview, Darrell Waltrip warned, "We're going to go out of business trying to [compete with the NFL]."
But I will say that I think Our Sport is starting to respond to our pain. I know for a fact that there are some great ticket deals going on at Atlanta and Daytona. If all the tracks run good specials, this could be a great year for ticket bargains, maybe luring some new fans out to the speedway for the first time. And in the Big Picture, I'm really hoping President Obama can get our country going again -- by spending American money here in America, putting Americans back to work building the stuff Americans need!
Whatever happens, this will be a NASCAR season when the roar of the engines never gets loud enough to completely drown out the news from the pesky Real World. Some of the biggest NASCAR news might originate from board rooms and stock-trading floors -- not garages and pit-boxes.
GET TO KNOW GAYTONA'S DEVINE NEW TEAM
Here in the executive suites of Gaytona.com, there's always a great deal of campaigning that precedes the announcement of the team. (Bribes, counter-bribes, threats, pleading -- you know, office stuff.) Now that we're past all that, we can announce the members of our 2009 DeVine 9 1/2 fantasy team! Although the actual number of team members has been, to say the least, flexible over the years, we can't put every swinging Richard in racing on the team. That means sometimes a guy has to give up his ride to give another dude a shot.

This year, we're saying good-bye to Dario Franchitti (that was an easy one, because his team folded during last season), and also to Elliott Sadler. I really hate to put Elliott out but he's had trouble breaking through lately: He hasn't won since 2004 and had the tenth-worst finish on last year's DeVine 9 1/2. But if you're an Elliott fan, take heart: There's a history of me putting guys off the team, then the guys really taking off, then me having to have a total climb-down and put them back on the team. Just ask Tony Stewart!

Here's our 2009 team, beginning with our two new guys!

Name: Scott Speed
Car: # 82 Red Bull Toyota
Crew chief: Jimmy Elledge Team: Red Bull Racing
Born on: Jan. 24, 1983
Born at: Manteca, Calif.
Stays at: Charlotte, N.C.
2008 finish: 5 Cup starts in 08
2008 wins: 0
2008 poles: 0
2008 best finishes: 16th at Homestead-Miami
Cup career wins: 0

Why we're a fan: Just 26, Scott arrives in Cup having already raced two years in the ultra-deluxe world of Formula 1. Last year he had nine top 10s in 16 Truck starts, and he finished fifth in ARCA with four wins. In a sport whose heroes are mythically masculine, Scott has shown he's not afraid to girl it up. He famously credited one win last year to the great pedicure he'd just gotten! Then later on Speed TV's "Trackside," he retold the story and participated in a gag where the guys painted Jeff Hammond's toes in rainbow hues! Gotta love it!

Add to that those very sexy Euro-tees and urban caps Scott favors, and you've definitely got a racer who's out to make it "his way." Even though the open-wheel guys who've come to NASCAR have had lots of problems, it's always worth remembering that an F1 driver has the nerves of steel that would let him drive that Cup car 25 miles faster than any Cup car will go. In several of his races last year, Scott definitely demonstrated what those nerves can let a driver do. This is one California dreamer we'll be keeping a close eye on!





Name: Mark Martin
Car: #5 Kellogg's/CarQuest Chevrolet
Crew chief: Alan Gufstafson
Team: Hendrick Motorsports Born on: Jan. 9, 1959
Born at: Batesville, Ark.
Stays at: Daytona Beach, Fla.
Cup career wins: 35
2008 finish: 24th
2008 wins: 0
2008 poles: 0
2008 best finishes: 2nd at 1st Richmond, 2nd Daytona, Indianapolis, 2nd Dover and Kansas



Why we're a fan: Mark Martin is like a composite of some of our favorite characters. Obviously, there's Cher: Mark has retired and come back at least as often as the great lady herself. Despite having gone about on a full royal-treatment retirement tour in 2006, Mark never retired at all - he only missed a dozen races in each of the two seasons since. Now, having grown bored with semi-retirement, he's back fulltime! (Wait a minute... someone's at the door... Oh my goodness, it's Cher! And she wants to do her concert in my front yard!)

Another character Mark reminds me of is Aunt Pittypat Hamilton, Scarlett O'Hara's ball-of-nerves maiden auntie. She was the kind of lady who knew how to have a real conniption fit, and Mark's tendency to fret, worry, cogitate and recapitulate have often made us think of that dear old lady. Far from boasting and talking trash about the other guys, Mark often seems to be apologizing for his race before he even goes anywhere! Mark loves to lower expectations, then surprise everyone with a strong finish.

And there is also some deeply wistful aspect of Mark's career that appeals to my sobbing Inner Opera Queen. Here's a guy who's been in Cup racing since 1981; he's won 35 times; yet he's never been the Champion. Remember that one year when he lost in the points just because of a stupid fine he'd incurred during the season? Remember how in 2007 he was leading the Daytona 500 on the last lap when a big wreck happened but the officials inexplicably kept it green and Kevin Harvick passed him for the win? There is something tragic about all that, and yet there is such nobility in his determination to try again. Mark my words: If Mark Martin mounts a successful campaign this year, his story will capture America's heart!





Name: Jamie McMurray
Car: #26 Crown Royal Ford
Crew chief: Donnie Wingo
Team: Roush Fenway Racing
Born on: June 3, 1976
Born at: Joplin, Mo.
Stays at: Mooresville, N.C.
Cup career wins: 2
2008 finish: 16th
2008 wins: 0
2008 poles: 0
2008 best finishes: 2nd place at 2nd Phoenix

Why we're a fan: We've been huge Jamie fans ever since his glorious win at Lowe's in 2002, when he was driving the Coors machine for the injured Sterling Marlin. The years since that beer-soaked youth went wild in Victory Lane have sometimes been hard on Jamie: He's been pretty open about the pressure to win, and trying until he's maybe trying too hard. We met Jamie last year in Daytona and it was evident he was carrying around a lot of tension and worry, which I also heard from someone who knows him. Things got a lot better later for Jamie: He finished 4th, 2nd and 7th in the last three shows of 2008. During the break, Jamie got engaged to his longtime girlfriend, Christy Futtrell. Let's hope she helps him keep that winning attitude going -- we'd love to see Jamie run great this year!





Name: Kasey Kahne
Car: #9 Budweiser Dodge
Crew chief: Kenny Francis
Team: Richard Petty Motorsports
Born on: April 10, 1980
Born at: Enumclaw, Wash.
Stays at: Mooresville, N.C.
Cup career wins: 9
2008 finish: 14th
2008 wins: 2
2008 poles: 2
2008 best finishes: 1st place at 1st Pocono; 1st place at Infineon

Why we're a fan: Kasey is just about the most flat-out gorgeous man in NASCAR. This will be his sixth Cup season, and he still doesn't look like he's old enough to drink what his sponsor's selling -- let alone race against Cup veterans. But as RuPaul likes to say, "Don't let the smooth taste fool ya!"

Kasey can flat out fly in a racecar, resulting in nine wins since his 2004 debut season and a spot in the 2006 Chase for the Championship. Offtrack, Kasey's ads for AllState -- in which he is relentlessly pursued by a posse of possibly deranged single gals on the make -- are the best campaign by a NASCAR star. (I've heard that one of those women said they filmed the first ads using a stand-in for Kasey, and when they saw the final version with them drooling over this guy who looked 16, they felt like total pervs!) This year let's see if Kasey can keep outrunning those cougars and get into the Chase, too!





Name: Brian Vickers
Car: #83 Red Bull Toyota
Crew chief: Ryan Pemberton
Team: Red Bull Racing
Born on: Oct. 24, 1983
Born at: Thomasville, N.C.
Stays at: Charlotte, N.C. and New York City
Cup career wins: 1
2008 finish: 19th
2008 wins: 0
2008 poles: 1
2008 best finishes: 2nd place at 1st Pocono

Why we're a fan: Following Brian's 2003 cup debut, we quickly nicknamed him Brian Wreckers for all his crazy driving antics! Everytime you turned around, the boy was doing something nuts, and some crusty racing veteran was threatening him with revenge. Brian's best wreck, of course, was at 2nd Talladega in 2006 when he was running 3rd on the final lap and wrecked out Jimmy Johnson and Dale Jr. to win! The JJ-lovers sat in the corner crying with their dresses pulled up over their heads, but Brian got his win and gave us a great show!

We're even more mad about the boy after reading a lengthy New York Times Style piece about his penthouse in lower Manhattan! Brian loves to hang out the City because famous people are as common as corndogs there, and most New Yorkers don't know who he is anyway. Brian said he's explored all over town on his bike, and he meditates to stay focused and calm. What a doll baby! Go Brian!





Name: David Ragan
Car: #6 UPS Ford
Crew chief: Jimmy Fenning
Team: Roush Fenway Racing
Born on: Dec. 24, 1985
Born at: Unadilla, Ga.
Stays at: Huntersville, N.C.
Cup career wins: 0
2008 finish: 13th
2008 wins: 0
2008 poles: 0
2008 best finishes: 3rd place finishes at 2nd Michigan and 2nd Talladega

Why we're a fan: Here's another dude who was a cat out of a bag when he first hit Cup. Dixie and I quickly dubbed him "Wrecking Ragan" and began looking forward to his wild driving each Sunday. But along the way David's calmed down a lot, going from the driver Tony Stewart derided as "a dart without feathers" to completing the most laps of any driver on the circuit last year. David is a dashing Southern cutie: We met him last year in Daytona Beach, and he was Absolutly charming -- and adorable as a puppy dog! We'd love to see this Georgia boy spank the competition and show them how we race it down South!





Name: Reed Sorenson
Car: #43 US Air Force Dodge
Crew chief: Mike Shiplett
Team: Richard Petty Motorsports
Born on: Feb. 5, 1986
Born at: Peachtree City, Ga.
Stays at: Davidson, N.C.
Cup career wins: 0
2008 finish: 32nd
2008 wins: 0
2008 poles: 0
Cup career wins: 0
2008 best finishes: 5th place at Daytona 500

Why we're a fan: This good-looking lad grew up just down the road from Atlanta, in Peachtree City, so it was a big thrill for us when he made his Cup debut at the 2nd Atlanta in 2005. Two years later at the same race, he came in 3rd for his best finish yet. Reed's a cool dude, and it will be exciting to see how he runs this year after leaving Chip Ganassi's outfit.





Name: Carl Edwards
Car: #99 Aflac Ford
Crew chief: Bob Osborne
Team: Roush Fenway Racing
Born on: Aug. 15, 1979
Born at: Columbia, Mo.
Stays at: Kannapolis, N.C.
Cup career wins: 16
2008 finish: 2nd
2008 wins: 9
2008 poles: 1
2008 best finishes: 1st place at 1st California; 1st Las Vegas; 1st & 2nd Texas; 2nd Pocono; 2nd Michigan; 2nd Bristol; 2nd Atlanta; Homestead-Miami

Why we're a fan: Lawsy mee, child, have you seen the boy? Carl's chiseled physique -- as seen on ESPN Magazine and elsewhere -- gives a whole new meaning to the term "body shop." We love Carl's sun-bright smile, his bad-boy backflips, and the fact that he's a jet pilot! If he was a character in Mystery Date, Carl would definitely be the Dreamboat. And we loved it last season when he responded to a question about fantasy dinner engagements by saying he'd like to meet Barack Obama! Well, Carl, win that Championship and I'll bet the President will let you park on the lawn! Hey, it might happen: Carl rode Jimmy Johnson all the way to Homestead-Miami last year, coming up just 69 points shy of the Championship!





Name: Michael Waltrip
Car: #55 NAPA Toyota
Crew chief: Bootie Barker
Team: Michael Waltrip Racing
Born on: April 30, 1963
Born at: Owensboro, Ky.
Stays at: Sherrills Ford, N.C.
Career Cup wins: 4
2008 finish: 29th
2008 wins: 0
2008 poles: 0
2008 best finishes: 2nd place at 1st New Hampshire

Why we're a fan: Everybody's a Mikey fan, or they must be -- what else could explain how this guy keeps going? Mikey turns 46 in April; he's had more Cup starts (725) than anyone except Richard Petty; he's won only four races (all on restrictor-plate tracks); and he hasn't had a victory since 2nd Talladega in 2003. Yet he remains enormously popular.

Fired from DEI by the scowling Theresa Earnhart in 2006, Mikey kept racing and kept his NAPA sponsorship, eventually forming his own team of Toyotas. In addition to racing, Mikey keeps up a grueling schedule of TV appearances (he's a regular on Speed TV's weekly race review program) and filming hilarious commercials for NAPA (in which he regularly pokes fun at his own inability to land in Victory Lane). It's almost impossible not to compare Mikey's situation to that of brother Darrell, who is widely thought to have raced many years past his prime in pursuit of a "final victory" that in fact had already occurred.

Yet there's nothing pitiful about Mikey, probably because he seems not to take himself seriously at all. He's just out there -- "NAPA Toyota" -- week after week -- "Aaron Rents" -- giving it his all -- "Coca-Cola" -- and, oh: giving his sponsors the on-air plugs they love. Mikey was one of the first guys we noticed when we started watching NASCAR, chiefly because of his floppy, "romantic poet"-style hairdo, and that voice. A 24-year (and counting) career in Cup racing is truly the best revenge for having had everyone mistake him for his Mama when he answered the phone as a boy. You go Mikey, and make them know you are somebody!





Name: Dale Earnhart Jr.
Car: #88 Amp Energy Drink Chevrolet
Crew chief: Tony Eury Jr.
Team: Hendrick Motorsports
Born on: Oct. 10, 1974
Born at: Kannapolis, N.C.
Stays at: Cleveland, N.C.
Career Cup wins: 18
2008 finish: 12th place
2008 wins: 1
2008 poles: 1
2008 best finishes: 1st place at 1st Texas

Why we're a fan: As befits a prince in a racing royal family, Dale Jr. is the object of media speculation and rumor without end. From his much publicized split with step-mother Theresa -- though he remains a part-owner of DEI-- to his ups and downs on the track each week, the spotlight stays on Dale Jr. If he's not out front, the media like to say, it's because he's lazy and not trying. When he slumped a bit mid-season last year, one of the announcers began weirdly alluding to questions about Jr.'s "fitness." What was that about? Anyway, the fans have voted Jr. the most popular driver for six years running, so, in the words of Billy Currington's hit, he "must be doing something right."





I'll be finishing off our team's bios right now, so click back to me soon.

Love,
Betty Jack DeVine