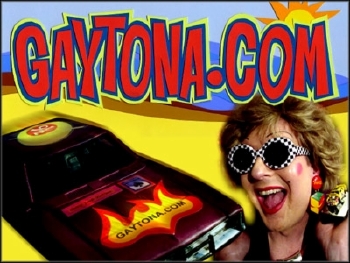 OUR DARLING GAY RACER!

Evan Darling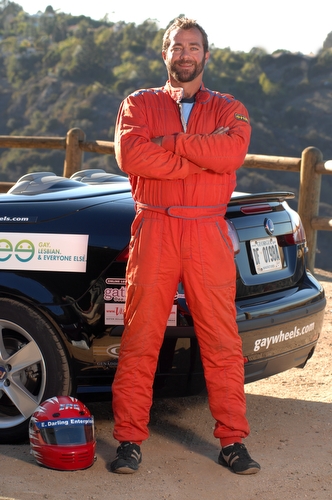 Hey Betty Jack this is Evan, the gay race car driver.



This year has been trying. The season started at Daytona in January where we thought we had a great chance at a good showing. I was paired with Mary Katharine driving the GSM Motorsports VW GTI in the Grand Am Koni Challenge enduro. Our car came off the trailer with a few issues that did not rear thier ugly heads until practice. We were way down on power and having to reset the master switch on track to get it back (not fun @150mph entering the chicane!). We played around with programming and changed a few parts hoping we found the issues. The problem was we did not qualify well having these issues.

I was gridded next to Patrick Dempsey in the Roar RX 8 midpack. We got a great start picking up 8 positions and the car was making the power it should. I kept on turning times as good as the leaders when we started cutting out again. We soldiered on after a long pitstop to try and fix the issues. I handed the car over to Mary where she did a great job driving the car keeping her position. Eventually the motor let go. It was the .60 cent part that caused all the drama as usual ending our race (and our motor). Oh well!

Our next race was at Lime Rock and we had a pretty good candidate to drive with me. We tested him at 2 tracks, Roebling Road in Savanna and Kershaw (CMP) in South Carolina. He was pretty good, learning the challenges of a fast front wheel drive car. Two weeks before the race I was trying to make the funds to be in the game but I came up short. Part of the fun of being the only GLBT racer is there are very few companies that want to sponsor me. I am still looking for the right one that wants to help me and our community...I am sure they are out there I just need to find them.

I have had a great outpouring of support from the community though! (Faultline Bar in LA, Exile in Columbus, OH and a bar near you soon! More on that later). Anyways we go to Lime Rock and we have another driver with a bigger wallet renting the car with the kid. The new guy practiced in the car and realized you don't just hop in a car like this and learn how to drive it hours before a race. He backed out. This means I drive! Woo Hoo! Well it wasn't that simple. The kid did not want me as his co-driver. We are speculating why but the most logical answer is he wanted someone slower than him in the car. He was consistently slower than me in all our testing and he wanted to be the star. He chose one of his less experienced friends. It is possible that he did not want to be associated with a GLBT driver, but that is speculation.

Well they started the race, got lapped 3 times, then crashed. It was one of the most embarrassing and degrading weekends of my life. I would have much rather gone to IML in Chicago that weekend. I skipped the race at Mosoport as our team had no plans on going, then went to Mid Ohio. I was helping a couple of teams with their programs and being a mechanic. The car I was crewing for ended up in the gravel trap with a broken wheel bearing with 20 minutes to go (it was raining and the car went off a few times before that). It has been frustrating going to these races helping others and not driving. I love being there and helping, but I love racing more. If sponsors do not come, I will be out of the sport all together.

On another note, I have been doing fundraisers. I went to the Faultline bar in LA and had a great outpouring of support (paid my entry to Lime Rock...just could not afford the rest of the expenses). I was trying out a publicist type and he ended up being a bit strange and we parted ways. He did organize the event (sort of) by putting me in contact with people, but had his own plans for me. Well things did not work out with us so I was stuck in LA. He even canceled my flight home and did not inform me! Nice. The trip ended up a lot less profitable than it could have but it was great to see all the race fans!

I also met my Agent for the first time. He is pretty young and still in school, but he seems pretty smart. I am still waiting to see the Faultline pics and email list though! I then went on to Palm Springs to visit my friend George (Georgie's Alibi) to talk about future fundraisers. Then on to Phoenix where I set up a table at Charlie's. Great country western bar but not really a fundraiser. The next one was at Exile in Columbus Ohio. This is a new (renovated) bar with great clientele. I was surprised at how big the gay community was there. Columbus is an interesting city and should be visited if you are passing through. The fundraiser was not planned until a week before so I did not expect much. It turned out great with me meeting some really great people. I will try and have more fundraisers all around so look out!

Ok I will stop rambling on and hopefully have some great news in the near future about sponsorship! I have a blog (I promise I will update it more) http://evandarling.blogspot.com/ so check it out! Special thanks to Betty Jack...we have had some great media lately and it shows we are a BIG part of society as well as our community (GLBT race fans). Heres to growing our gearhead gay community!

Cheers!
Evan



EVAN DARLING IS A PROFESSIONAL RACECAR DRIVER BASED IN FLORIDA. CHECK OUT EVAN'S WEBSITE FOR MORE INFORMATION



http://www.edarlingenterprises.com/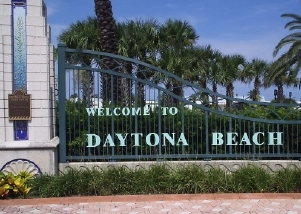 Daytona Beach is the World's Most Famous Beach for many reasons!
CLICK HERE FOR GAYTONA.COM'S GAY GUIDE TO DAYTONA BEACH

Last one to leave, or the first one to get there for next time?
Thanks to Marcy Scott of Atlanta Motor Speedway for this funny souvenir of the October race.
Well, gay NASCAR fans, the last tire has been changed, the last flag has waved, and the last fan has staggered on home. Another NASCAR Cup season is in the record books. The best thing about this season was experiencing it with you, my NASCAR friends! I appreciate all your e-mails -- please forgive me when I've been slow to reply. A super special thanks to our NASCAR pals Amy and AJ, who again this year welcomed us so kindly to their luxurious trailer at Atlanta Motor Speedway, and to Marcy Scott of AMS for all her kindnesses and her informative updates on the news from NASCAR's fastest track!
For Dixie and me, the 2008 season had the most unforgettable beginning ever when we shockingly received tickets to the 50th Daytona 500! (Thank you for that terrific surprise, AJ!) We were totally thrilled to witness this historic event and bond with race fans from all over the country. Unfortunately, that race -- almost no pack racing, long strung-out lines of cars, and two cycles of green flag pit stops before the first caution, which was for debris) set the tone for most of the season to follow. For Dixie and me, it was most ironic. Here we were at the most famous race on the most famous track -- watching the cars go round and round, keeping a safe distance and logging event-free laps. What was going on here?
Weekend after weekend, at speedway after speedway, the same thing happened: The pole-sitter, or someone else up front, got the lead and ran away with it. The intervals between first place and everyone else grew to embarrassing sizes, and fans who had paid hundreds or even thousands of dollars to be in attendance watched something that looked like a faster version of rush hour without many cars. Given the kind of racing we saw on most weekends, the much-ballyhoo'd, increasingly almost inevitable Jimmy Johnson championship seemed dully fitting. ("I get it, he's won the Cup three times in a row, now can we please go home?"
Now, I have no idea what NASCAR is doing in the off-season, but if they are smart they are going to try very, very hard to fix this Car of Whatever so it can RACE. With the economy in the shape it's in, we could be looking at huge pull-backs by the manufacturers, more and more sponsors dropping off the cars, and layoffs like those that resulted from the DEI-Ganasi merger. NASCAR has long taken pride -- and rightfully so -- in the respect it pays to the fans, and the access it affords fans to the stars. But at the end of the day, if the racing's not there, there's just nothing to see. NASCAR MUST FIX THIS CAR, or allow the teams to fix it. Our sport simply cannot afford another season like this last one.
Speaking of the economy, I was disappointed when I realized that NASCAR's ban on teams testing at Cup circuit tracks means the end to Pre-Season Thunder, the wonderfully detailed and drawn-out testing program that began just after the holidays at Daytona International Speedway. Last year I was in Daytona Beach over King Day weekend, and Dixie and I spent a pleasant afternoon watching Nationwide testing. Plus, the nightly coverage on the Speed Channel was a great antidote to the post-holiday blahs, and it got us to thinking about getting back to the track.
I hope y'all happened to read the New York Times recent article on the lovely SoHo apartment owned by Brian Vickers. He talked at length about why he decided to buy his main residence in NYC instead of on Lake Norman like most of the other drivers. (It's the privacy, you see. No one in NYC cares that he's a famous NASCAR driver!) The article included many details, like how Brian had been a Boy Scout in Hickory, N.C., and was introduced to NYC by Jeff Gordon. It said Brian has ridden all over NYC on his bicycle, and he meditates in front of a large statue of Buddha. Very interesting...
In great news, election week got off to a super start when Lewis Hamilton won the F1 championship in one of the most exciting season-enders I've ever witnessed. Felipe Masa led all day in front of his hometown Sao Paulo fans and was second in the points. Hamilton, the points leader, had to finish fifth or better to win the championship, and on the last lap he slipped to sixth! He just managed to get the spot back and win the cup. So close was it that Masa's family began celebrating, then learned the heartbreaking news. At the post-race press conference, you never saw such as sad winner as Masa was. But the drama was first-rate, capping a season packed with excitement on track and off (remember that incredible S&M-sex-orgy scandal caught-on-tape involving F1's Max Mosley? By the way, he won his libel case against Rupert Murdoch's News of the World.)
And of course, that week continued wonderfully when Barack Obama won the presidency. In spite of the shocking condition our country and economy are in after eight years of Bush, I believe that this young man will help us get back on track. I am heartened by the way so many people are getting behind him -- I think even some Republicans are secretly relieved and are hopeful that this will mark a great new beginning for our country.
Back to racing -- I'm going out on a limb here and predict that in the 2009 season, someone in NASCAR racing -- someone big -- is going to come out. It will be a huge story for a week; NASCAR and the driver's team owner will be totally cool about it; and then... back to normal. It's going to happen because it's time for it to happen, that's all. And because NASCAR needs some good off-track storylines in case the car tanks again.
Friends, thanks for sticking with me this year. We'll be back next year with an exciting new DeVine 91/2, and we want YOU to be a part of the fun! And finally: Take some time this holiday season to check up on folks who may be lonesome -- especially our gay seniors. This economy is hitting so many people so hard. Is there something you can do to hold out some hope and help to folks having a tough time? Next year we'll have a new president. Let's go into that new year with a new attitude. Let's resolve to pull together, and let's help each other out whenever we can.

To you and all you love, peace and joy this holiday season!

Love,
Betty Jack DeVine