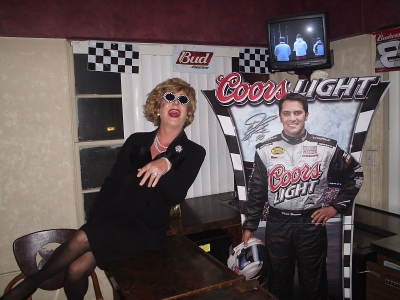 Betty Jack celebrates with David Stremme in the Penthouse Lounge at the Streamline Hotel at Daytona Beach where NASCAR was created.
I had a wonderful time kicking off the 2006 NASCAR Season at The Groove in Daytona Beach. See all the fun pictures on down this page.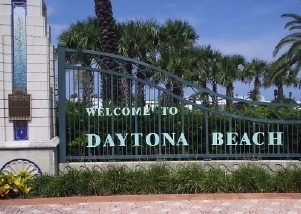 Daytona Beach is a delight 24/7 - CLICK HERE FOR GAYTONA.COM'S GAY GUIDE TO DAYTONA BEACH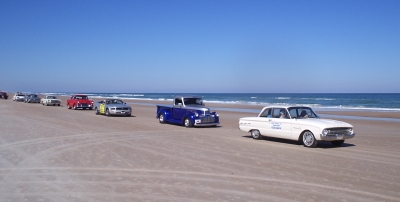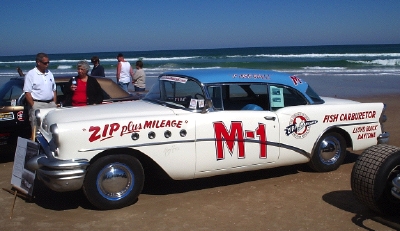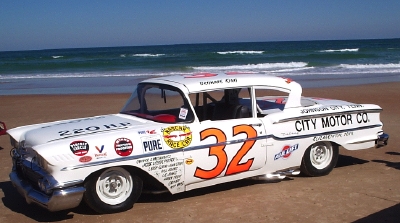 The was already an excited crowd at Jamie's souvenir trailer way before the Twins began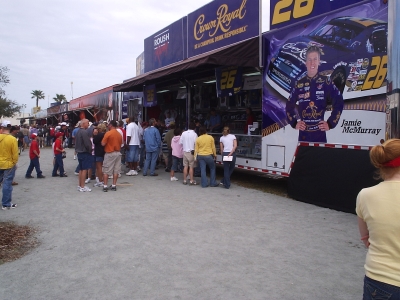 This is the view from our seats for The Twins: on row 22 in the DePlama section of the Front Stretch Stands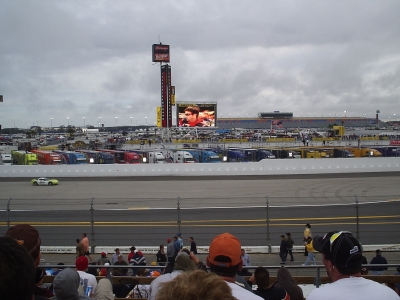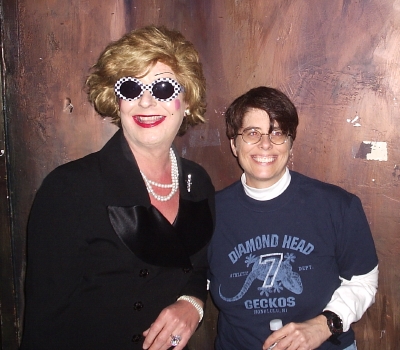 DJ Joanie spins the music that makes spending time at The Groove so terrific. She's such a gracious hostess too!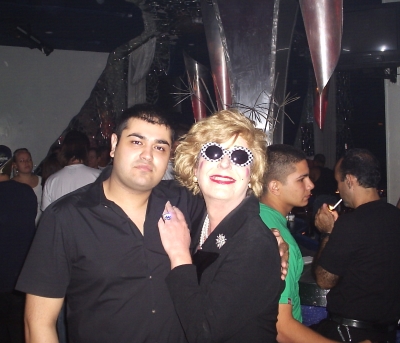 Capt. Neemo is the adorable host at The Groove; but when he's announcing on stage he turns into a tiger. You never know what he's going to say and occasionally he'll pounce in a most unexpected way.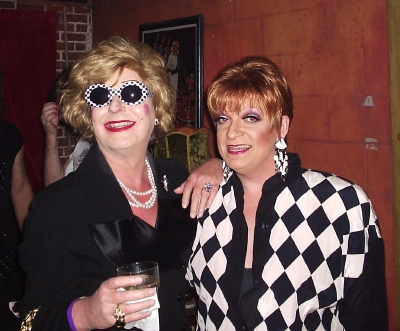 Robin Allen is the charming and talented Show Director for both The Groove and Love Bar. The shows I saw featured so many beautiful queens. Daytona Beach is rich with many fabulous entertainers.
As the limo takes me home, I can honestly say that i will always cherish my wonderful memories of my night at The Groove, the Streamline and every fabulous moment of my first Speedweeks in Daytona Beach.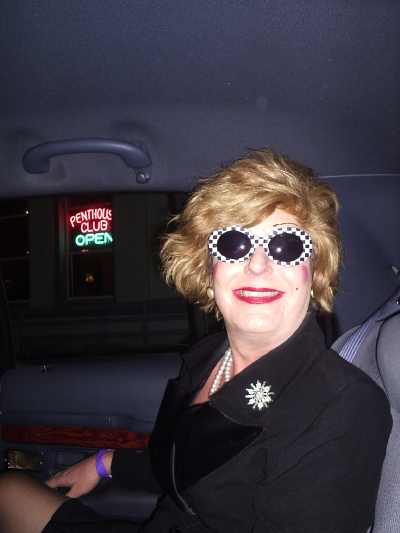 Betty Jack's Track Yack:
Daytona 500
Welcome, gay NASCAR fans! I'm plum wore out from all my reporting from Daytona Beach last week, but here's just a few notes on he Big Race. As you know, Monkey Island, our Daytona Beach estate, is nearby the Speedway (and of course the Airport). Well that fog you saw on TV Sunday was actually so thick that we could not even see any airplanes that afternoon, even though the practice flyover (two F-22A Raptors) came so low over our house that it was almost deafening! But in spite of the rolling seafog and the chill, Dixie and I set up our whole Party Hut out in the backyard, with the TV and the rabbit ears and the wireless phone, on which we received the well-wishes of numerous racefans suffering through a frigid, rainy Sunday back in the ATL. Here, served up rare from my notebook, is how the deal went down.

The pre-race show was a solid rock-out with Bon Jovi serving a fine three-song set. We love Bon Jovi especially because he did benefits for Kerry - Edwards in the election campaign. And man does he still look great!

The invocation was offered by the Rev. Ronald Durham, a Missionary Baptist preacher. The National Anthem was performed by Fergie of the Blackeye Peas. As with the practice, we could not see the flyover planes from the backyard even though they were obviously close by! James Caan ordered the start before a crowd variously estimated at 168,000 to a quarter-million. The green flag was delayed when it became necessary to pull the #29 in to clear away a "store angel" (blowing plastic bag) from his camera. Pole-sitter Jeff Burton led the first lap

.

I'm too wore out from all of it to go back over everything that happened, but mainly: *Tony Stewart, who had squawked so loud about the dangers of bump-drafting at Daytona, drove like an escaped convict, tangling with Jeff Gordon and then with Matt Kenseth. Later, Kyle Busch -- doing what everyone was thinking, no doubt -- went after Tony so hard he got black-flagged.

*No amount of post-race testing and "this one is for the haters of the 48" rah-rah can erase the taint that Jimmie Johnson won the 500 after his crew chief was ejected for trying to pass off what the Daytona Beach News-Journal called "a blatantly illegal rear-window contraption that, if undetected, would have given their car an aerodynamic edge on the track." So that's what he didn't get away with -- wonder what worked? I looked closely at the crowd as Jimmie took his victory lap. Very little waving or jubilation in the stands. At least in the mind of the fans, Jimmie Johnson's Daytona 500 trophy will always have a tacky Post-it attached that tells how cheating got his crew chief bounced from the track just days before the #48's big win.
NEW YEAR, NEW COMMERCIALS!
Mikey got us laughing early with a commercial where he was driving around in a NAPA truck, thinking warm thoughts about NAPA inside his head, waving at everyone here and there, when finally you hear someone on the side of the road remark, "That new NAPA delivery guy is kind of goofy looking."
In another cute commercial, there are some hot shots of some of the racers waking up in the morning to find Ryan Newman has shaved a "12" into their beard stubble. Sexy, oh yeah!
That's all for now children, mother's tired. See you in California. Let's all meet up down at the Track Bar!

Love,
Betty Jack DeVine
SPEEK WEEK 2006 IN DAYTONA BEACH

A Special Signature Report

by Betty Jack DeVine
Welcome, gay NASCAR fans! This week, I'm living the dream by being at Monkey Island, my very own Daytona Beach estate, during Speedweeks, the most wonderful time of the year for race fans! Dixie Richardson and I are so jacked up to be here, and the fun started the minute we blew into town!
As time permits this week, I'm going to tell you all the good grease from down here. Now, there's way too much to do outdoors for me to commit to spending all my time inside a-typing, but I do want to update as I can during the week, so check back here everyday. If I get the chance to slap anything new up here, it will be at the bottom.
We're just days away from announcing the DeVine 91/2 for 2006! Check back every day!
OK, so now let me tell you about the crazy time I'm having here at the World Center of Racing, just two miles west of the World's Most Famous Beach, and two miles east of the World Center of Speed! WOO-HOO!
(And a special reminder to all Gaytona.com fans in Daytona Beach this week: Come see me this Saturday night at the fabulous Groove and Love clubs on Beach Street, where I'll be making a personal appearance the night before the 500!
FRIDAY Dixie, the pups and I had a great time motoring down from Atlanta in Aunt Pittypat, our white Park Ave. We were so blessed to have absolutely no traffic tie-ups along the way. The expressways are generally so tore up anymore that you just about get used to them being that way, with traffic back uped for whole counties. It was great fun to really buzz along and get in before late.

Well honey we knew it was going to be wild as soon as we stopped at the Publix on the way in. There was NASCAR swag everywhere! You could have put on a cartoon version of "A Chorus Line" with all the lifesize driver cutouts they had! Spied a poster detailing an event next Friday at the bandshell featuring Carl Edwards, a former member of Bad Company and a Twinkie-eating contest! We hadn't even unpacked, and already my calendar was filling up!

After I dropped Dixie and the very excited puppies at Monkey Island, I popped back out to get pizza from the original Stavros, on Beach Street. When I walked in, I saw two guys in Speed TV jackets -- ran them through my in-brain version of that Video IQ computer on "Las Vegas" -- the one that seems to have recent photos of everyone living in the world -- and hit on Jimmy Spencer! Yes girls, Mr. Excitement was standing right there, and he and the senior gentleman working the counter were being all buddy-buddy. When the other worker brought the check for my take-out, he joked and said it was "$500." I jumped and said, "Give it to him, then!" and pointed at Spencer, who grinned. Then Jimmy was telling the guy some story about being on a roll at a table in a casino when some drunk bulled his way in front of Jimmy, and Jimmy told the pit boss he'd better do something about that guy before Jimmy did it himself! It was quite a colorful story. When they left, I said, "Good luck Jimmy," and he said thanks and patted me on the arm! Hilarious! You long-time readers know I've trashed Jimmy more than once for his on-and off-track vendettas, so I'm happy to report such a pleasant exchange with him. Jimmy's either lost a lot of weight or TV was making him look real fat -- he looked quite fit in person. I got back to the house and tee-hee'd to Dixie, "I can't believe I saw a driver the first time I went out, at the first place I went! We're in for a wild week!"
SATURDAY We decided to head to the Speedway for the ARCA race and the Bud Shootout -- but the forecast was the kind that makes you raise and eyebrow and keep it up all day. We checked out a bunch of movies at the library, then headed to the beach, which was gorgeous, with a beautiful green stripe in the dark blue water. But just about the time to get ready for the race, here came the rain and wind. We thought it might have stopped and so took off for the Speedway, with a pitstop along the way at Big K to pick up a Speedway-approved plastic tote bag and a portable camera. Then, in the rain and dark, we followed the signs to the free parking and shuttle. This is MILES from the Speedway -- the movie-star type parking right across the street is -- no kidding -- $50. By the time we'd driven to this very remove location, we decided this increasingly wet and cold night was just not the right time to experience our first race at Daytona International Speedway, so we started trying to find out how to get out of really gigantic field we were in. This started off like a cartoon, but teetered periously close to a nightmare as we drove around and around. We immediately realized we need a better way to get to the track -- our car would have been closer to the Speedway if we'd left it in our own driveway!
SUNDAY We when we woke up the next day, we found they'd moved ARCA to Sunday morning and were running the Bud at 4. But by then, the front that had moved through was causing a real freeze-out -- way too cold to sit outside all day. So we did the next best thing: We watched the race at Racing's North Turn, the beachfront joint built right on the north turn of the original sand-and-asphalt course on Daytona Beach! For race-watching in Daytona Beach, it's Racing's North Turn! It was a terrific shoot-out, with loads of drama: The wildly driving Kyle Busch being admonished to calm down after banging into Mark Martin; a crazy multi-car spinout started by Brian Wreckers; and a totally unjustified black flag penalty on Carl Edwards, who was penalized for driving off the track instead of wrecking out a bunch of cars that were about to tangle. Go figure. What a thrill to see Denny Hamlin win! He was especially cute afterwards talking about how he came to the race the first time two years ago as a guest of Jr., and he stayed in Jr.'s motorhome! Now that sounds like some fun, oh yeah!
MONDAY Today, we had a busy day and got lots of stuff done. I tracked down Mikey, the hottie-hairstylist we'd met at Ponce Inlet in January, and he kindly agreed to take a crack at repairing my wig before my appearance Saturday night. We dropped that off, then picked up some plump shrimp for later from King's Seafood. At the Publix, we had one of those moments that has "Greetings from Florida" written all over it: I caught a glimpse of this totally fascinating lady, short, trim, of an unknown but surely advanced age. She was wearing a pair of those enormous black sunglasses that fit to the head on all sides of the eyes for that robot effect. She had on bright red slacks and a white sweater, and her hair was colored the perfect Lucy shade of fresh-squeezed organge juice. But as I studied her, I simultaenously noticed the very similar lady with whom she making her way down the dairy aisle. Then -- no, scratch similar -- the other lady was dressed and coiffed exactly -- repeat, exactly -- like the first lady! These gals were apparently identical twins, and though time was working its magic differently on each of their faces, they were not about to de-twin their look. Best of all, they seemed to be doing just fine, thank you very much.

Next, it was to a lovely lunch at the Ocean Deck, one of Daytona Beach's most famous restaurants. (Established in 1957, this seaside joint serves up terrific food from lunch until 2 a.m. We found it on our first trip here and have been hooked ever since.) We'd heard it is a favorite of drivers, and sure enough our charming waitress told us Casey Mears was in just a few nights ago. We didn't see anyone famous, but we soaked up the terrific view of the Atlantic and caught Speed TV's replay of the previous day's ARCA contest at The Speedway. After a short walk on the beach, it was on to the library for some DVDs, then to The Speedway to buy our tickets for the Gatorade Twins on Thursday. After a marathon of racing Sunday, the track was calm and parking was easy. We picked seats in the DePalma box, which is coming off Turn 4. When you buy tickets here for the first time, they have to "open an account" for you, imagine that. And when you get your tickets, they give you this booklet full of maps and lists of rules and special instructions -- Lawsy mee, I'm trying to go to a race, not get into college all over again! But it felt great to have tix in hand!
TUESDAY During Speedweeks the excellent, Democrat-leaning Daytona Beach News-Journal runs extensive coverage of what all's going on, and that's where we read about the Old Race Car and Autique Automobile Parade in Daytona Beach Shores. Hundreds of people turned out to walk or drive by these gorgeous rides, which are lined up right on the beach. Many of the cars were race replicas of famous drivers, like Earnhardt Sr. and David Pearson. One car was from one of the Flock Brothers; I'm not sure which of those brothers raced for a while with a tiny live monkey, dressed in a uniform, strapped into the car beside him. I fook a picture of Fireball Roberts' Buick, which had the interesting portholes (or "speed-holes," for Simpsons fans) that Buick returned to Park Ave. some years ago and is using on the new Lucerne. (We have seen several Lucernes down here. While they have comfortable-looking front seats and a nice trim package, the size makes it hard to believe Buick think this is an adequate replacement for the Park. The Lucerne could never hold six people, and Pitty does so quite merrily. That's my initial impression; I look forward to seeing how they drive.)

Everyone was grooving on the idea of these old racecars rolling out on the very sands where so much racing history was born. The temp was up a bit, getting to around 60, though the wind kept the chill on. We had seen a news helicopter go by, and Dixie heard on WHOG that whales had been spotted off Ormond Beach, so we went up there and drove up and down the beach, looking for whales, or people who said they'd seen whales. On the way home, in the liquor store, a HUGE cut-out of Jamie McMurray in his dashing new Crown Royal firesuit greeted me with a rakish grin, surrounded by boxes of delicous Crown Royal! I asked the counter lady flat-out if I could have it. She made me repeat my request, then said no, I could not. Still, as I said to a potential beau once, "You don't have to say yes, but baby I do have to ask." On the way out of the parking lot, I drove back in front of the store so Dixie could see Jamie, beaming, just inside the door.



THURSDAYDixie had the brilliant idea of arranging a cab to the Speedway, and that worked out great. We got there about 11:15 and breezed through the aisles of driver and track merchandise trailers. This carnival, as we called it, was easily double the size of the retail fair at the Atlanta track. It also offered us our first chance to pick up some Jamie swag in his gorgeous new Crown Royal colors. Fabulous! The Daytona Speedway sells cocktails everywhere, so you're not stuck with beer like at Atlanta. There were lots of military recruiters on hand -- the strangest was the Army's, where hordes of Moonie-like soliders tried to lure young people into something frighteningly called the "Participation Center."

After about an hour in this mall of racing, we headed inside, drawn like moths to the buzzing of the Busch cars taking their practice laps. About 100,000 people were in the stands when race-time came: This is billed as the biggest non-weekend sporting event in the country. Our seats, halfway up in the section of the tri-oval heading toward the stripe, were awesome. We could see pretty much the whole 2.5 mile extravaganza except for Turn 1 and a piece of the super-stretch. Our views of Turns 3 and 4 were spectacular. We were also directly in front of the Jumbotron -- you really need it to follow the action on the far side, as it's so far away it's like trying to watch something in the next town over. As race-time neared, we were welcomed to Daytona Beach by Vice-Mayor Rick Shiver, who said, "You could be home in the snow, or you could be at work, but instead you're here at Daytona International Speedway, and your friends are jealous!" I know mine were -- I talked on the cell to Amy three times, and she sounded like she wanted to crawl right through the phone and join us! The Rev. Tim McNeil brought the invocation, and Casandra Lewis sang the National Anthem. Four F-14s swooped in for the flyover, making no noise at all until they were right on top of us! Then they circled back, and each jet peeled off to buzz the grandstands before landing at the neighboring Daytona Beach International Airport. Then, r'uh r'oh: The misty rain we'd all been trying to pretend wasn't happening was judged wet enough to delay the start.

About an hour passed before we went green, and there was a brief rain delay during the race. There was widespread agreement that this interruption messed with everyone's drinking schedule. I saw folks "napping" under the stands even before the first green flag waved! We did eventually go racing, though the action was toned down considerably from Sunday. Tony Stewart had squawked so much about how dangerous the Bud Shootout was that NASCAR had painted large orange squares on the track at the entrace to the turns to show the point after which bump-drafting would be penalized. This really cut down on the excitement factor, though we saw plenty of the fast, close racing Daytona is known for.

The winners were Elliott, who'd started 3rd, and Jeff Gordon, who'd started on the pole. Where's all those lead chances these plate tracks like to brag about? Between the races, there was an amusing diversion: a lumberjack-off, or some such, where teams of strong men raced to see who could split wood, run a chainsaw, and shinny up a pole the fastest! What will they think of next? After the second race, we skipped truck qualifying and, after waiting a long time on a bus that did not come, hailed a cab, already crowed with rowdy fans, and made our way back the ' hood. The rest of the night is a bit of a blur -- I know I called Janet, whom I'd telephoned from the track with live racing noise. She said at first my message was incomprehensible and frightening. Then she listened again, recognized the sound of the cars behind my frantic yelling, and realized everything was A-OK.
FRIDAY Today's news is actually from Monday night. Our backyard neighbor Mildred told me all about how on Monday she accompanied Mrs. Wendell Scott to the dinner and ceremony at which the late Mr. Scott and Rusty Wallace were inducted into the Stock Car Racing Hall of Fame. Wendell Scott raced in NASCAR for 13 years, ran 495 races, racked up 20 top 5s and 147 top 10s, and, on Dec. 1, 1963, became the first (and still, only) African-American to win a top-division NASCAR race. (Shamefully, officials fearing a white riot initially announced another winner and deprived Scott of a proper victory celebration at the Jacksonville track. "Everybody in the place knew I had won the race," he said years later, "but the promoters and NASCAR officials didn't want me out there kissing any beauty queens or accepting any awards.") Scott's award was presented to his wife by Richard Petty, and Mildred got the King to autograph her cap! Mildred had been friends with the Scotts for many years, and she received a personal call from the family informing her of Wendell's death in 1990. Truly, in Daytona Beach you can find racing history right in your own backyard!
SATURDAY We caught lots of rays down at Ponce Inlet beach while listening to the Busch race on the radio. The North Turn was packed out -- people do love to watch the races there! The day's main event for me, of course, was my appearance at the Groove. What a time we had! Thanks to Manager/MC Capt. Neemo, Show Director Robin Allen and DJ Joanie! The wonderfully gifted cast did two shows, and after the second one I signed some Jack Daniels posters on stage -- met a coupla cuties who were all into racing -- one got me to autograph a poster for his dad thusly: "From one original to another!" The large crowd was fine and festive. We couldn't resist a late-night stop by the Streamline, where Dixie snapped some funny pictures. After that, it was time to crash and get ready for race day!
That's all for now. Come back and see me soon.

Love,
Betty Jack DeVine
E-MAIL BETTY JACK
bettyjack@gaytona.com